We use Monu Skincare Products for all our facials which contain no synthetic perfumes or colours, are not tested on animals and use only ungenetically modified, natural ingredients.
All our facials include cleansing, skin diagnosis and advice on skincare products, however your choice of facial will depend on your skin's needs and your preferences so you may wish to discuss this with us before booking.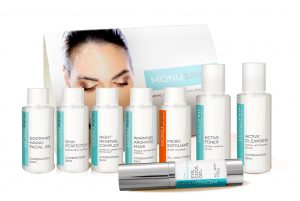 An eyebrow shape is also included with our Monu Deep Cleanse, Monu Prescriptive and Monu Collagen Facials.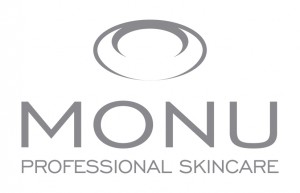 Monu Deep Cleanse   the perfect introduction to Monu skincare products. Cleanse, exfoliation, steam, massage, eyebrow shape and mask   £50
Monu Active Collagen Mask   hydrates and replenishes moisture levels, using a  99% Collagen Veil which plumps fine lines and wrinkles. Perfect for dehydrated and sun damaged skin   £52
Monu Prescriptive    benefits a variety of skin types due to a personalised massage cream and mask, mixed using  plant extracts chosen specifically to meet the needs of your skin   £50
Monu Smoothing Algae   line smoothing, lifting and energising, using a seaweed compress with marine magnesium. Leaves skin radiant and toned   £52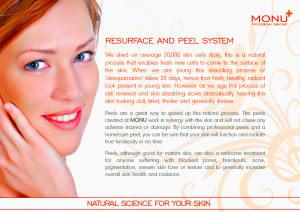 Monu Resurface & Peel    using a blend of glycolic, salicylic and fruit acids to peel and reveal a new you! Revitalises  and increases radiance. Good for a mature skin as well as blocked pores, pigmentation and uneven skin tone and texture   £50        course of 6   £260
Monu Express   cleanse, exfoliation, steam & mask  £37    add eyebrow shape £42
Looking Good Luxury Signature Treatment   'Pure Heaven' Spa style facial and back massage using MonuSpa massage oils. Includes face and scalp massage  £60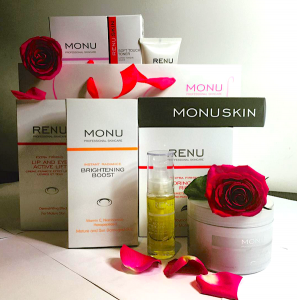 Ionising Eye Treatment   soothing and refreshing, helps fine lines and puffiness  £35        course of 6   £175
We use an electrical machine with Galvanic current which helps the active ingredients of a gel masque to penetrate the upper layers of the delicate skin around the eyes.
Ionising Eye Facial   eye and facial treatment combined, includes steam & masque as well as eye treatment (see above)   £53
Diamond Microdermabrasion Treatment     a gentle exfoliation and resurfacing of the skin using a specialised electrical machine   £40  
Course of 6   £210