Looking Good pedicure  £40
Feet are soaked, nails filed and cuticle work carried out.
Hard skin on heels and soles is filed.
We then massage your feet and lower legs before applying nail polish.
Orly Italian Mandarin spa pedicure  £42
We soak your feet in bubbles then cut & file toenails before carrying out cuticle work.  Italian Mandarin exfoliating scrub is used all over your feet to smooth dry skin, and any hard skin on the heels and balls of the feet is gently filed. Italian Mandarin moisturising clay foot masque is applied  before we massage your feet & lower legs with silky  foot lotion.    Finally we paint your toenails with the Orly polish of your choice.
File and varnish with regular Orly or Orly EPIX colour   £18
French (white tips) with any of the above add £2
Callus Buster Pedicure  £45
Fantastic for hard, ridged skin which can build up on the heels. We carry out all the standard treatment (above) and also use a special skin softening masque which dissolves away the hard skin which can then be easily scraped away. Much gentler than a scalpel and just as effective.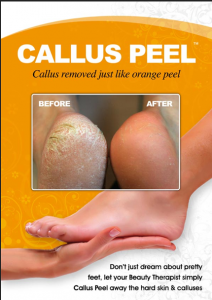 We are unable to treat feet with verrucas, athletes foot
or fungal nail infections.
PLEASE BRING YOUR FLIPFLOPS TO PUT ON AFTERWARDS, SO  YOU DON'T SMUDGE YOUR VARNISH!