We use MonuSpa blended oils for our massage, with the exception of Aromatherapy massage. Choose from Warming Ginger (lemongrass, ginger & orange), Relaxing Bali (sandalwood & rosewood) or Calming Vanilla (vanilla & citrus). Please be aware that certain medical conditions could exclude you from having a massage treatment, which we would discuss during a consultation.
---
Swedish full body massage  (60 minutes)   £57
Swedish back, neck and shoulder massage  (30 minutes)   £35
A combination of gentle and firm massage strokes which warm up the muscle tissue, release tension and promote relaxation.
---
Aromatherapy massage (75 minutes)
Using blended essential oils tailored to your needs. Backs of legs, back, stomach, face, neck, shoulders and scalp are massaged using pressure point movements    £55
---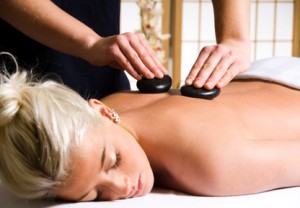 Hot Stone Massage
Smooth, heated up stones used with MonuSpa massage oil glide smoothly across the surface of your skin, releasing their heat and helping to relieve any aches and pains.
Add to your 30 minute back, neck and shoulder massage     £40
Add to your 60 minute full body massage   £62   

Or book 45 minute massage including hot stones   £45
---