Sunless tanning gives a faster result than a sunbed, you get a choice of colour and your smooth and even tan will last for 7-10 days.
---
Before your tan
– shaving, waxing,exfoliation should be done at least a day before, NOT ON THE DAY
– shower or bath on the day of your tan but don't apply body lotion, oil, moisturiser or make-up
– no deodorant
– bring loose, dark clothing and flip-flops to put on afterwards
After your tan
– wait 15 minutes before dressing
– no tight fitting clothes, strappy sandals or tight bra straps immediately afterwards which could smudge the tan
– do not bathe or shower for 8 hours or so
– do not exercise, swim or use a sauna for the first day
– quick showers are better than long soaks in the bath, for making your tan last longer. Pat yourself dry and use plenty of moisturiser.
---

Full body spray tan   £25
Legs or face/neck/shoulders spray tan   £10
---
SPECIAL OFFER!
Unlimited use of our sunbed throughout June for just £30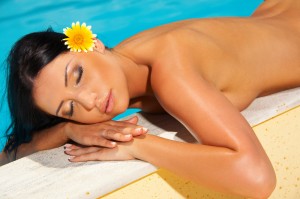 Fast tan sunbed
Helionova lie-down sunbed. Our sunbed is serviced and re-tubed on a regular basis.
15 minutes   £5
course of 6 sunbeds   £25
course of 12 sunbeds   £45